Description
Meril Milk & Beli Soap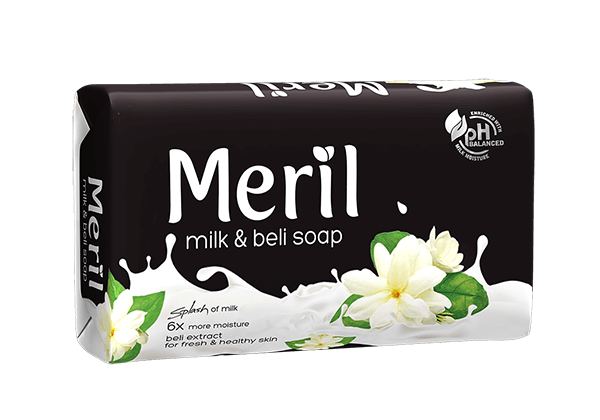 Product Details
To revitalize every kind of skin, Meril brings 5 variants of Milk Soaps with the trace of nature. Milk nourishes the skin, leaving it fresh and youthful. The variants include blackberry, kiwi, pomegranate and beli along with the moisture of milk for an attractive, fresh, smooth and younger-looking skin.
Ingredients
Sodium soap, Aqua, Glycerine, Titanium Dioxide, EDTA, Perfume, Beli Extract, Pure Milk
Direction of Use
Gently apply the soap on your skin. Rub lightly to form lather. Wash and rinse off thoroughly. Stop using immediately if does not suit your skin.
| Barcode | Company | Brand | Variant | BSTI | Size |
| --- | --- | --- | --- | --- | --- |
| 8941100501290 | Square Toiletries Ltd | Meril Milk Soap Bar | Milk & Beli Soap | Mandatory | 100 gm |
| 8941100502266 | Square Toiletries Ltd | Meril Milk Soap Bar | Milk & Beli Soap | Mandatory | 75 gm |
| 8941100501177 | Square Toiletries Ltd | Meril Milk Soap Bar | Milk & Beli Soap | Mandatory | 60 gm |
| 8941100501771 | Square Toiletries Ltd | Meril Milk Soap Bar | Milk & Beli Soap | Mandatory | 25 gm |
| 8941100501917 | Square Toiletries Ltd | Square Toiletries Ltd | Milk & Beli Soap | Mandatory | 150 gm |
Related Product
Meril Milk & Kiwi Soap

Product Details

To revitalize every kind of skin, Meril brings 5 variants of Milk Soaps with the trace of nature. Milk nourishes the skin, leaving it fresh and youthful. The variants include blackberry, kiwi, pomegranate and beli along with the moisture of milk for an attractive, fresh, smooth and younger-looking skin.

Ingredients

Sodium soap, Aqua, Glycerine,Titanium Dioxide,EDTA, Perfume, Kiwi Extract, Pure Milk

Direction of Use

Gently apply the soap on your skin. Rub lightly to form lather. Wash and rinse off thoroughly. Stop using immediately if does not suit your skin.

| Barcode | Company | Brand | Variant | BSTI | Size |
| --- | --- | --- | --- | --- | --- |
| 8941100500187 | Square Toiletries Ltd | Meril Milk Soap Bar | Milk & Kiwi Soap | Mandatory | 100 gm |
| 8941100500194 | Square Toiletries Ltd | Meril Milk Soap Bar | Milk & Kiwi Soap | Mandatory | 75 gm |
| 8941100503362 | Square Toiletries Ltd | Meril Milk Soap Bar | Kiwi-2 pcs bundle pack – 10Tk off | Mandatory | 150 gm |
| 8941100503256 | Square Toiletries Ltd | Meril Milk Soap Bar | Milk & Kiwi Soap | Mandatory | 150gm |

Meril Milk Soap

Product Details

Who doesn't wish for fresh and soft, velvety skin? To your rescue from skin roughness and protecting against it, switch to Meril Milk Soap Bar. You are special and your skin needs the very best. Blending the ancient imperial luxury of milk baths with its 6 times more moisturizing power, Meril Milk Soap Bar will give you fresh and smooth skin. So, indulge in the world of moisture with Meril Milk Soap Bar. Meril Milk Soap Bar best creation of the Meril family. Undoughtly people choose Meril Milk Soap Bar as their number one choice from the Meril family.

Ingredients

Sodium soap, Aqua, Glycerine, Titanium Dioxide,EDTA, Perfume, Pure Milk

Direction of Use

Gently apply the soap on your skin. Rub lightly to form lather. Wash and rinse off thoroughly. Stop using immediately if does not suit your skin.

| Barcode | Company | Brand | Variant | BSTI | Size |
| --- | --- | --- | --- | --- | --- |
| 8941100502068 | Square Toiletries Ltd. | Meril Milk Soap Bar | Milk Soap | Mandatory | 150 gm |
| 8941100501726 | Square Toiletries Ltd. | Meril Milk Soap Bar | Milk Soap | Mandatory | 100 gm |
| 8941100501733 | Square Toiletries Ltd. | Meril Milk Soap Bar | Milk Soap | Mandatory | 75 gm |
| 8941100501764 | Square Toiletries Ltd. | Meril Milk Soap Bar | Milk Soap | Mandatory | 25 gm |
| 8941100503379 | Square Toiletries Ltd. | Meril Milk Soap Bar | Milk & Rose | Mandatory | 100gm CP |
| 8941100503270 | Square Toiletries Ltd. | Meril Milk Soap Bar | Milk & Rose | Mandatory | 150gm |
| 8941100502785 | Square Toiletries Ltd. | Meril Milk Soap Bar | Free with Sepnil Instant Hand Sanitizer Pump Pack 200 ml | Mandatory | 75 gm |
| 8941100503492 | Square Toiletries Ltd. | Meril Milk Soap Bar | 5 Taka OFF at Meril Milk Soap Bar 100gm | Mandatory | 100 gm |